The Stars Shine Brightly at MLG
12 October 2022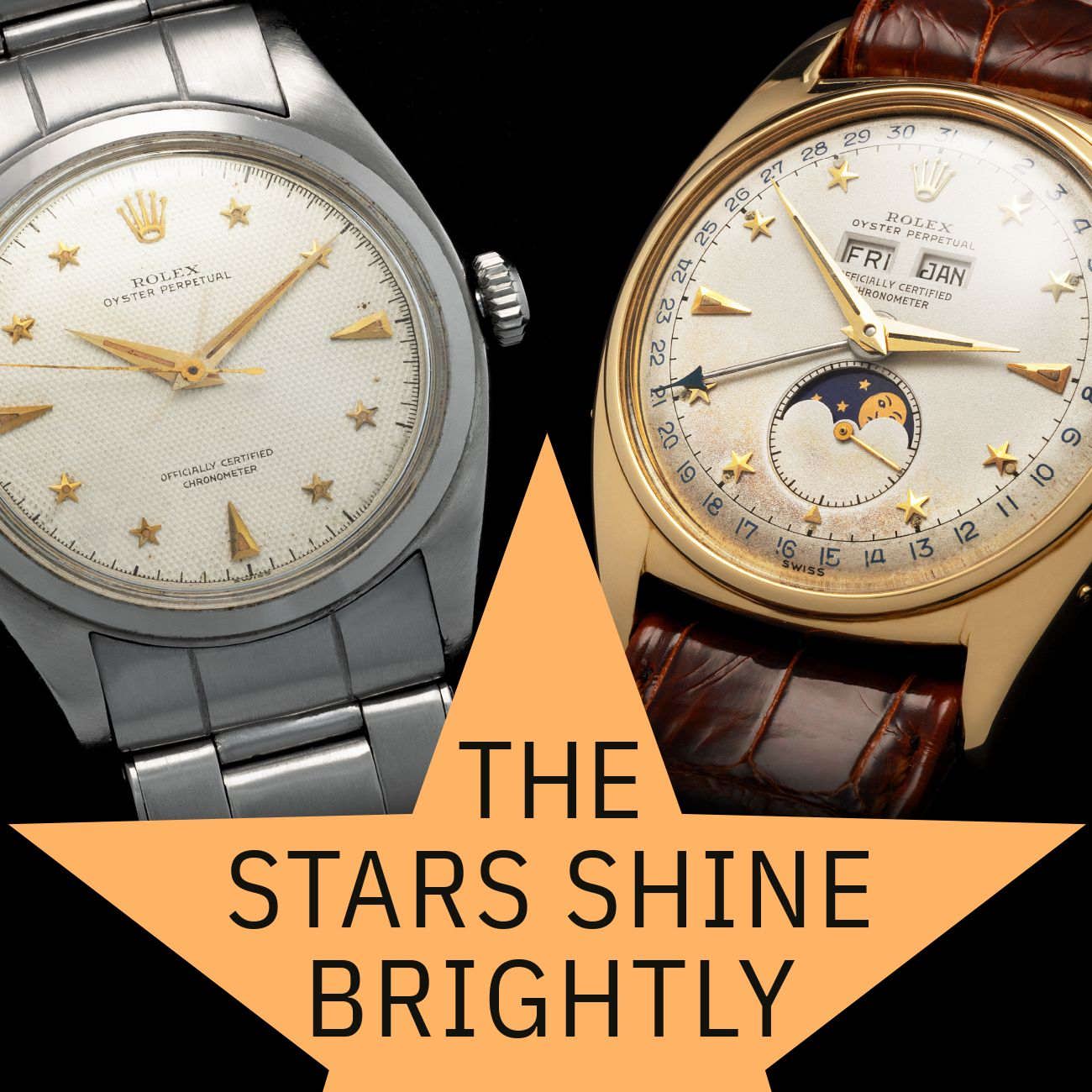 Today we are delighted to share with you two magnificent Rolex watches that feature the highly prized so-called Stelline dials that will be included in our upcoming Exclusive Timepieces auction, this October 22nd and 23rd October at Le Meridien Beach Plaza Hotel here in Monaco. We hope to see you there!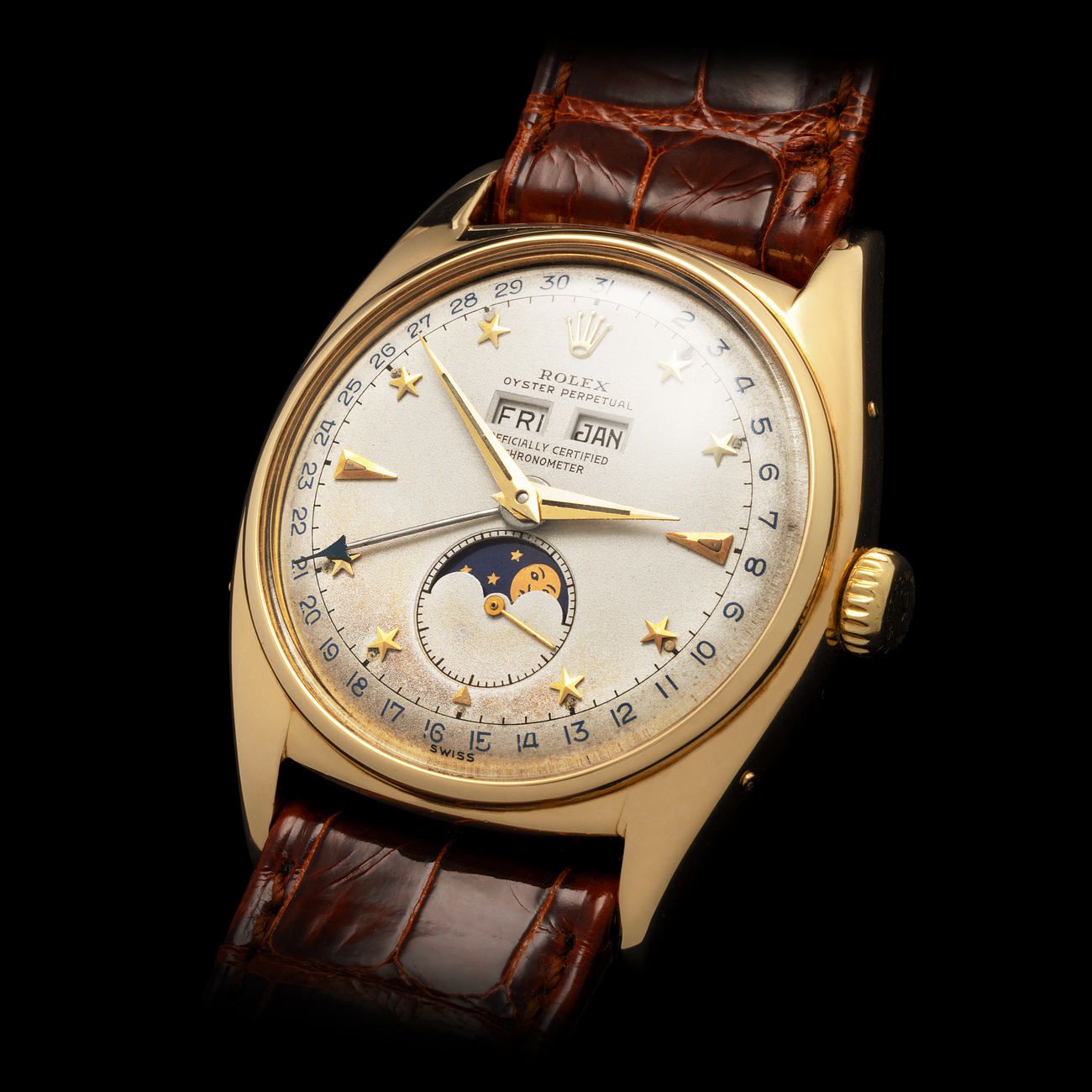 The reference 6062 is a timeless piece which, for over decades, has been the object of the desire of many collectors and watch lovers. Rolex only produced two wristwatches with a moon phase complication, the reference 8171 and reference 6062. The most significant difference between the two is that the 8171 has a snap on case back, whilst the 6062 has a screw back. Launched at the Basel Fair in 1950, reference 6062 was the first automatic wristwatch with calendar and moon phases to be housed in a waterproof Oyster case by Rolex. Cased in stainless steel, yellow gold and pink gold, the model was available with a number of dial variants. The version in our October sale is undoubtedly the rarest and most coveted version, with eight faceted stars as the hour markers. Such is the desirability and popularity of the watch, that collectors have dubbed it "Stelline", meaning "stars" in Italian. Of the approximately 670 reference 6062s produced in yellow gold, fewer than 150 examples have ever appeared on the market, far fewer with the iconic "Star Dial". The beautiful dial remains in great condition. The numerals on the outer track are an inky blue, and the day and date apertures are sharp and angular, demonstrating the originality of the dial. The moon phase disc was produced by Stern Frères with the blue enamel champlevé technique that was also used in Patek Philippe calendar watches. This is truly a trophy model, with the rare luminous "star" dial, and is absolutely an opportunity for the most demanding of collectors and watch scholars.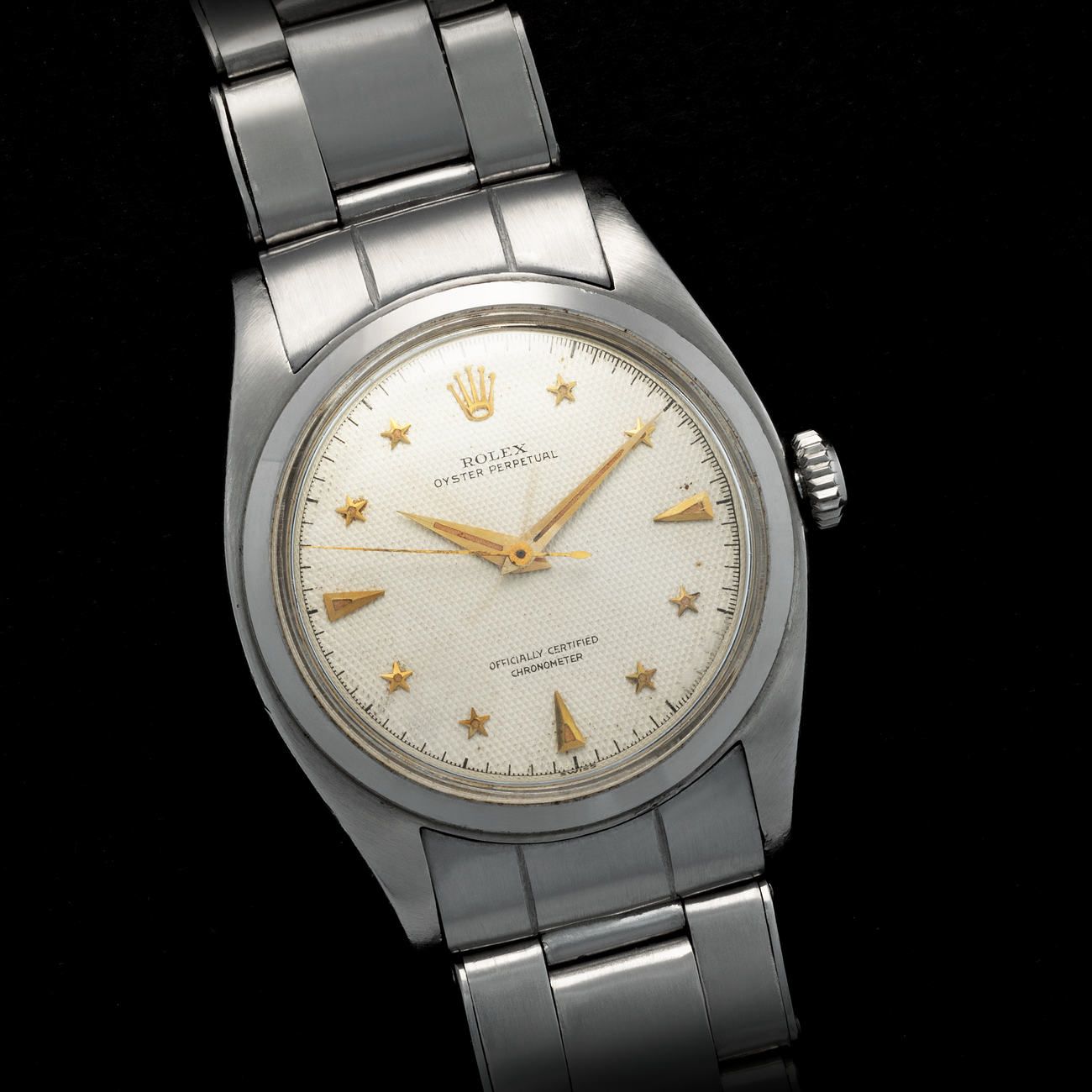 Known as the Ovettone, these large size reference 6098 watches were the forerunners of the sports watches and were designed to withstand the most testing conditions. A batch of around 30 watches of this reference was used on several Everest expeditions and specifically for this reason it is also known as the pre-Explorer. Considering its sportiness, it was predominantly available with standard dials layout, with applied Arabic and dagger indexes. In very rare cases, some specimens were equipped with a highly appealing honeycomb dial, furthermore, highlighted with the sought after star-shaped numerals, more commonly associated with the celebrated reference 6062. We are delighted to be able to offer one of these incredibly rare specimens. The untouched condition of the "Stelline" dial, featuring an ivory white honeycomb finish with star-shaped hour markers and dagger numerals at 3, 6 and 9 o'clock is amazing. Coming from a private Rolex collection, this watch has been preserved in a safe deposit box for many years. This watch is possibly one of the most sought-after time-only references ever produced by Rolex.